Celebrating National Customer Service Week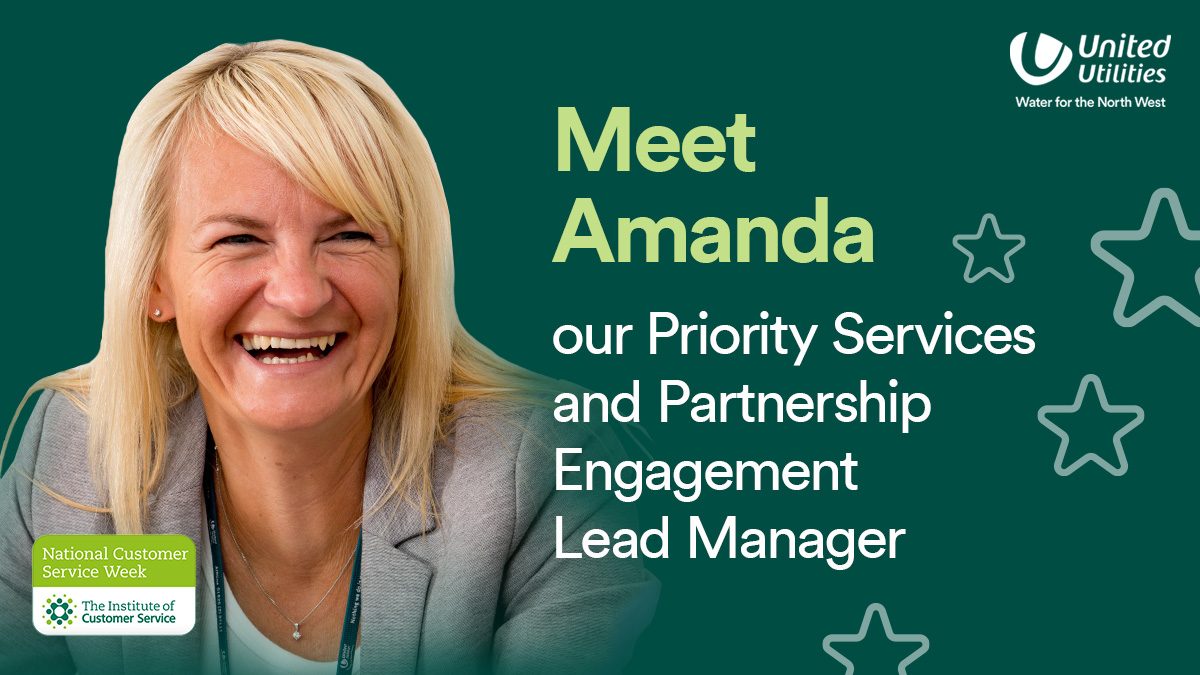 Providing support for customers living in vulnerable circumstances is more important than ever and as a responsible business we continuously strive to improve our services and work with others to support those who need it most. To celebrate National Customer Service Week, we caught up with our priority services and partnership lead Amanda to find out more about the help on offer.
Tell us more about Priority Services, what is it, who's it for and why is it so important?
Priority Services is our free scheme available to all of our customers in the North West that have additional needs. That could be due to age, ill health, disability, financial problems or language barriers. It's a way of tailoring our services to help those customers when they need us.
How many people do we have registered?
Since we launched Priority Services in May 2016, registrations have grown considerably, from around 19,000 customers to nearly 150,000 today, which is great news! However, there's a lot more people in the North West that could benefit from being a Priority Services customer.

How are we working with others and what initiatives are we doing to support those in need?
Many trusted well known charities and organisations from around the North West play a big part in helping us to promote our services and benefits. This includes other utility network distribution companies, who represent electricity and gas. As a North West Utilities Together group, we have joined Electricity North West, Cadent Gas and North Gas Networks in sharing best practice and working on joint projects, such as promotion, sharing data and of course the refurbishment of a mobile advice centre owned by Age Concern Central Lancashire, which now enables us to target those hard to reach customers.

Do you have any examples that stand out of where Priority Services has made a real difference?
That's the thing, Priority Services makes a difference to customers every single day. The smallest of changes we make could have a HUGE positive effect for a customer. Whether that's speaking to one of our dedicated trained agents or having their bills produced in a different format, or even giving extra time at the door if we every have to call, right down to someone with a medical need for water having it delivered to their home during an interruption to their supply. Everything we do helps to support customers when they need it most.

Tell us a bit more about what you love about your job.
I'm very lucky, I love my job. I get to meet lots of fabulous people and charities that specialise in all different sorts of vulnerabilities and experiences, plus they're always really helpful and supportive of what we're trying to achieve. Having been a carer myself, I know the struggles people with difficulties and their carers face, so I can always bring that experience to work, plus I'm encouraged to challenge where I think things could be improved for our customers. I've learnt so much in the past four years.
How can I help a friend or family member?
There are 20 different reasons you can select when joining Priority Services, everything from a medical condition to a change in your life such as a bereavement or a loss of a job. A friend, a neighbour, a relative, we all know at least one person that should be registered for Priority Services and it's completely FREE! Finding out more and registering couldn't be easier, there's an online form on our website or call our dedicated team for a chat on 0345 072 6093. Tell us once and we'll get you registered for a similar scheme with electricity too – that's two for one!