Supporting young people into work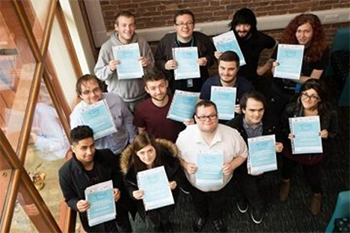 The United Utilities youth programme provides local young people with the skills and experience they need in order to become work-ready; it does this by helping them develop a routine, navigate public transport, motivate themselves to go to work and build the confidence to learn new skills. It also helps them develop a social network outside of work, as loneliness can be a real issue for young people who have left education and haven't gone in to employment.
The youth programme accommodates all learning styles, providing opportunities in classrooms, workplaces, volunteering posts and team building activities; encouraging everyone to begin to understand and believe in their strengths.
There is no doubt that the transition into work is challenging, with course participants often needing time to engage with the valued, and often implicit, practices of the workplace. They also need to feel safe to make mistakes.
The programme is split into two distinct sections of learning and working; providing tangible work experience, which for many could be their first experience of being given responsibility and ownership in a job, bringing a real sense of identity and confidence. The stability and predictability of the programme means that the young people can develop travel plans and routines, and our training goes beyond work, looking at life-skills such as money management, first aid and how to manger personal change
The programme has seen exceptional completion rates, which tells us that we are maximising the benefit for our young people. Over 75% of the young people who have participated in the programme have gone into paid work and half of those started their working lives with us at United Utilities. We develop lasting relationships with the people we work with and look forward to doing so into the future.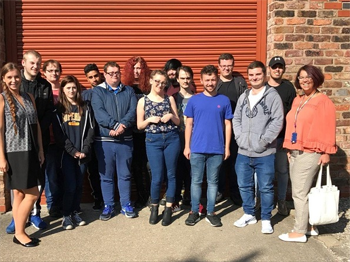 Among the group who completed one of our six-week programmes in 2018, were young people from Warrington, Heywood and Ashton-in-Makerfield.
Nathan Higgins, from Warrington, applied to the youth programme to help him get into work and find a career he could enjoy. He said: "I can't find the words to express how great I think this programme is. I was someone who wasn't sure what to do but this has been incredibly helpful to me. It's a programme that helps put you back on your feet."
Nick Howel, also from Warrington, joined the programme after it was recommended to him by his job centre advisor. He said: "It's been very useful for me. I already feel much more confident in my skills and in the workplace and am more comfortable around new people than I used to be. I've also made some new friends."
United Utilities' social impact manager, Lynn Johnson, said: "For those who take part in our programme there are many complex barriers to developing work-ready behaviours and routines, and therefore finding employment. Our programme has evolved to address these barriers, supporting young people to transform their own lives," she added.
This may seem straightforward to some, but for those who take part in the programme there are many complex barriers to developing those behaviours and therefore finding stable employment.
The youth programme has evolved to address these barriers, supporting young people in transforming their own lives. We talk to the people involved in the programme all the time, from those conversations we think there are several factors that contribute to its positive impact."
As well as work experience, the programme provides training in life skills such as money management and first aid.
Lynn adds: "We develop a secure environment, encouraging participants in the programme to share their hopes and fears. There's no doubt that the transition into work can be challenging and young people need time to engage with practices in the workplace and feel safe to make mistakes."
We recently ran the ninth intake, which again showed exceptional completion rates. Many of this year's intake are now in paid employment.