Meet Jordan, our digital marketing intern
Jordan has recently finished his internship at United Utilities as the Digital Marketing Intern in the Communications team. After completing his first two years at University, Jordan felt that the appropriate next step in his career would be to undertake an internship in a related field to his undergraduate degree in Marketing.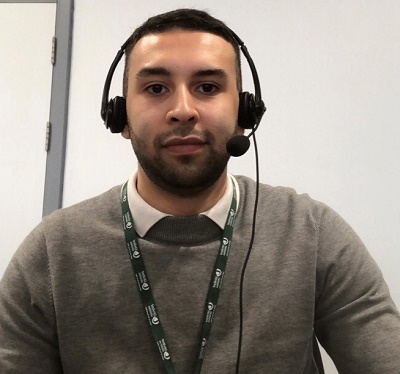 "I started to do more research around placements and internships during the second year of my course, I liaised with the employment and careers team at University and decided that a year of working in the industry of Marketing was the best option for me."
"There were certainly challenges for me in securing a placement however, as midway through my application processes we were hit with the COVID-19 pandemic which brought a lot of uncertainty regarding both my degree and the recruitment process for getting an internship."
"Luckily for myself though, United Utilities kept their recruitment process ongoing through digital means. United Utilities was a company that I had an interest in working for because of its reputation and their desire for innovation, so I made it a priority of mine to apply for their vacancy as a Digital Marketing Intern. The process involved a video interview answering some questions to measure my capability and suitability before the final stage of the application process which was a live video interview. Despite the circumstances of not being able to work in offices and having to adjust to the pandemic, the thing that stood out to me most about United Utilities was how quickly and seamlessly the team had adapted to online working."
"I began my placement year in September and I had mixed emotions when it came to my first day, there was some nerves as well as a lot of excitement as I had never worked a 'conventional' full time job in an office before but I couldn't wait to get started! The induction process made the transition as smooth as possible, given the government guidelines at the time, only a few people were in the office on any given day but I was given a seat every day for the first 2 weeks. It was a nice way of easing in as it meant that I was meeting new people each day that would allow me to meet the entire team in a less overwhelming manner."
"Following my first two weeks is when I started to work from home, government guidelines changed not so long afterwards so everyone was back to digital working. This trend continued as a result of the pandemic which made my experience as an intern quite unique. Whilst I may not have had the 'ordinary' office experience, it required myself and the entire team to get creative in how we were working."
"My placement experience has been a rewarding one, I started off with training that prepared me for the year ahead by completing courses such as Accenture Web Analytics and a Digital Marketing short course from York St John University. The internship was split into 2 sections, the first 6 months involved working with the Digital Optimisation team, this involved implementing and promoting new self-service tools, making improvements for search engine optimisation and content creation and management of the website. The second half of my internship was with the social media team, this involved creating content and monitoring performance of posts and I was given the responsibility of managing the United Utilities Linkedin and Corporate Twitter pages. Splitting the internship into 2 separate almost 'mini-placements' gave me a much broader and diverse experience, it allowed me to gain experience in different areas of marketing that will stand me in good stead in the future when it comes to completing my degree and entering the world of work."
"Overall, my year at United Utilities has been nothing short of a pleasure, the team has been fantastic to work with and they've been nothing but kind and helpful (despite not having as much face-to-face time as we would've liked) and I've had a lot of rewarding experiences too, the key highlights that stick out to me have been redesigning the water supply section of the United Utilities website, liaising with an external company to create a promotional video for the new self-service tools available and working with the Multicultural Network to create content for Black History Month."
"I've made friends and memories here that are sure to last a lifetime and I couldn't be more thankful to United Utilities for providing me with the opportunity to experience my placement year here."
To find out more about our internships, please click the link below.